Premier, Mr Andrews, has announced that all schools in Victoria for Term 2 will begin with remote schooling for all children on Wednesday 15th April 2020.
REMINDER

: All Students must log on and email their homeroom teacher by 9:15am each morning to check in and acknowledge that they have received their work for the day.

Student Access: http://simon/

Remote schooling handbook – Students and Families

Secondary School Letter to Parents 19.05.2020

Letter from Director of Catholic Education 19.05.2020

Secondary School Letter to Parents – 12.05.2020

My Daily Home Learning Plan Yrs 7-10

My Daily Home Learning Plan – VCE Students

Successful Homeschooling Tips for Parents

The immediate focus is to ensure continuity of learning.

Remote learning means that each student can access their lesson materials remotely. This is facilitated online through their SIMON student portal and/or access to class resources made available through Google Classrooms, Education Perfect or other digital platforms typically accessed in your subject class. This will allow each student the ability to participate in their timetabled classes from home with each students lesson instructions, materials and reference to the textbooks will be made available online. The work set for each class will reflect the same amount of work that each student would receive if they were attending classes onsite.

Lesson outlines will be made available in SIMON, on the Class Notices page, by 9.00am each morning.

Kieran O'Dwyer
Acting Principal
Child Safety
Parent Guide to Remote Schooling and Child Safety
ESafety Commissioner – aus-global-parent-online-safety-advice
School Fees – Financial Support
Parent letter – Financial Support
IT Tips
Having IT issues? Email it@mmcrc.catholic.edu.au
Too many emails? Here are instructions on how to clear your inbox! Clearing Mail Inbox
Mindfulness
Get ACTIVE! Voyage Fitness Leongatha are running PE Classes from home! Live from their Facebook page starting on Tuesday 28th April for 11 -17 Year olds!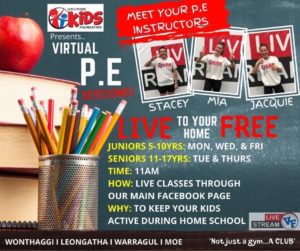 Staff contacts
Staff contacts https://www.mackillopleongatha.catholic.edu.au/contact-us/contact-details-location/ to email staff please use (no spaces) first name initial surname @mmcrc.catholic.edu.au
Additional Data Allowances
Telco's are offering different (free) additional data allowances for their customers
Telstra customers –  https://www.telstra.com.au/covid19/supporting-you-during-covid-19?ti=TR:TR:18032020:persnew:data:til:def:appen:pos2:DCDOC-3454:cvd19
Optus customers –  https://www.optus.com.au/about/media-centre/coronavirus-support
Vodaphone customers – https://www.vodafone.com.au/about/company/covid-19
Additional Resources – need help?
Headspace Wonthaggi
https://headspace.org.au/headspace-centres/wonthaggi/
Phone: (03) 5671 5900
Email: info@headspacewonthaggi.org.au
Kids Help Line 1800 55 1800 https://kidshelpline.com.au/
Parentline (Victoria) 13 22 89
eHeadspace 1800 650 890 or eheadpsace.org.au
Beyondblue 1300 224 636 or beyondblue.org.au
1800RESPECT 1800 737 732 or 1800respect.org.au
MensLine Australia 1300 787 978 or mensline.org.au
Lifeline 13 11 14 or lifeline.org.au
Suicide Call Back Service 1300 659 467 or suicidecallbackservice.org.au
Safe Steps 1800 015 188 or safesteps.org.au
Frequently Asked Questions
What if my child is sick? If your child is sick we need to know that they are unable to complete online learning. Let us know through PAM or emailing attendance@mmcrc.catholic.edu.au by 9am each school day.
How will my child know if their teacher is absent? The office staff will be working with teachers and arrange for CRT teachers to cover any of our teachers who are absent. Teachers have prepared work which the CRT teacher will provide to the class.
Will my child still complete regular assessments? Yes, the teachers will provide work and mark the work submitted by the students.
How do I view my child's coursework? Parents are able to view coursework through PAM.
How does my child use SIMON? All students should be aware of how to use SIMON. They sign in and are able to access work that the teacher sets for them. Once they complete the work they upload it back to SIMON for the teacher to access and mark.
What do I do if my child has a technical problem? There is still staff at the college who are able to assist remotely with issues. Students can email it@mmcrc.catholic.edu.au
How do I contact the ICT help desk? Email it@mmcrc.catholic.edu.au
How do I contact the College for other enquiries? The College is expecting a larger number of enquiries, if you are able to email please use the following addresses
info@mmcrc.catholic.edu.au – for general enquiries
attendance@mmcrc.catholic.edu.au – for student absences
principal@mmcrc.catholic.edu.au – to contact the Principal
it@mmcrc.catholic.edu.au – for IT related issues
Where can I access the latest College updates about COVID-19? The College will keep the webpage for remote learning up to date and post messages on PAM/SIMON
Do Students have to follow their timetable? Remote learning is going to be different for each student and family, student's don't have to follow their timetable they can work through their work each day at their own pace. You can structure your day to suit you and your family
Students emailing their teachers: It is expected that staff will continually check their email across the course of the day and provide prompt feedback between the hours of 9:00am and 4.00pm.